Street 2 Stage New Musicals
For over a decade DreamArts ran Street 2 Stage, which empowered young people to create, rehearse and perform their own musicals. These have included CARNIVAL- THE MUSICAL, set over 48 hours of Notting Hill Carnival and which had a sell-out show at the Royal Opera House Linbury Theatre, and a new musical adaptation of the award-winning Shane Meadows film Twentyfour Seven, which took place at The Royal Central School of Speech and Drama. These productions gave young people from social and ethnic backgrounds underrepresented in the arts a unique professional theatre experience, acting as a spring board for many to achieve a creative career. The ethos of Street 2 Stage continues within our Weekend Company whose member create and present their own musicals.
"Hugely ambitious… the seven-strong band played a fantastically eclectic score of blues, reggae, hip hop, rap and street sounds…while the design team came up with an impressive cityscape. Not only were the individual roles all well taken, the dance company really set the stage alight" Michael Coveney, Theatre Critic, on QUEST
"The cast demonstrate talent that suggests a career on stage or screen. Well-designed… versatile cast members who sing well together to a ten-strong live band … the comedy leading to a touching finale… great entertainment!" British Theatre Guide review of Can You Live Without It?
"This experience has changed everything I want to do with my life. My hobby has become my dream, and my parents now support me… they were so proud!" Abby, 18, costume designer
OiiMySize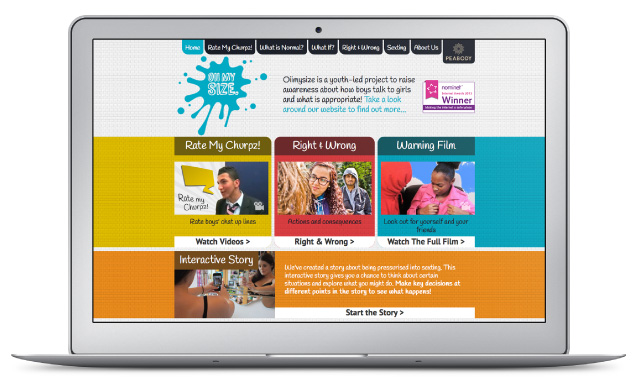 The quality of DreamArts is demonstrated by OiiMySize, an online campaign that won the prestigious Nominet Internet Award for Making the Internet A Safer Place, beating competition from the BBC and the Safer Internet Day. Like everything DreamArts does OiiMySize responded to needs expressed by young people. When young women spoke of deep concern about the sometimes intimidating manner in which young men communicate with them, both in person and online, our Programme Director Anne-Marie Reid Cofie took them on an 18 month journey to develop an online campaign. OiiMySize raises awareness among young people about the dangers, effects and legalities of sexting, with the aim of promoting choice and respect for young women. The site is now used to help change young people's lives by Westminster Gangs Unit and the NSPCC; has featured in presentations at the House of Commons; and was a finalist in the UK Sexual Health Awards 2014.